I know, it's totally shocking that I actually came back like I said I would, but I did. Here is the kit I promised I would show you. I'm really excited about it, but I have no idea what to call it.
That's where you come in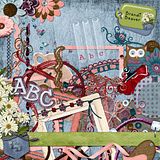 If you have a great idea for a name, head on over to the forum at denim and dasies and check out
This Thread
I have decided to have a name that kit contest. Whoever submits the name I pick will win the kit.
For you freebie hunters, I have a QP made from the kit with no name. You can pick it up
HERE
.